This March 3rd brings back the commemoration of the death of former Haitian President Rene Preval. Today, it is in these moments of great turbulence in the country of Haiti one realizes how his presence would have been so necessary.
This day reminds us all of the death of this great man.
René Garcia Préval January 17, 1943 – March 3, 2017) was a Haitian predident and agronomist who twice filled in as President of Haiti, from February 7, 1996, to February 7, 2001, and again from May 14, 2006, to May 14, 2011. He was likewise President Jean Bertrand Aristide's Prime Minister from February 1991 to October 11, 1991.
Préval was the initial elected president of Haiti who got the power from a previous leader in a pacific way. History has shown us that the transfer of power in Haiti does not always go smoothly.
To be the first since Haiti was free, is a great accomplishment. This says a lot about the man. Not only he did it in 1996, he was elected for a second time in 2006 and became the only to have finished his term twice.


Préval advanced privatization of government organizations, agrarian change, and examinations of human rights manhandles. His administrations were set apart by local tumult and endeavors at financial adjustment, with his last term saw the decimation created by the 2010 Haiti seismic tremor.
Before he became Haitian president
Préval was conceived on 17 January 1943 in Port-au-Prince, Haiti and was brought up in his dad's main residence of Marmelade, a small town in the Artibonite department. Agronomy was his major in college. He studied in Belgium and Italy.
Préval's dad, also studied agriculture. He made his to the position of Minister of Agriculture. He later worked for the UN in Africa. He fleed the country because he was seen as a foe of the Duvalier regime. We all know the consequences for beain an adversary in ancient days.
Before working for the National Institute for Mineral Resources, Preval lived in Brooklyn, NY in the United State of America for 5 years. He did little jobs here there to endure during these 5 years.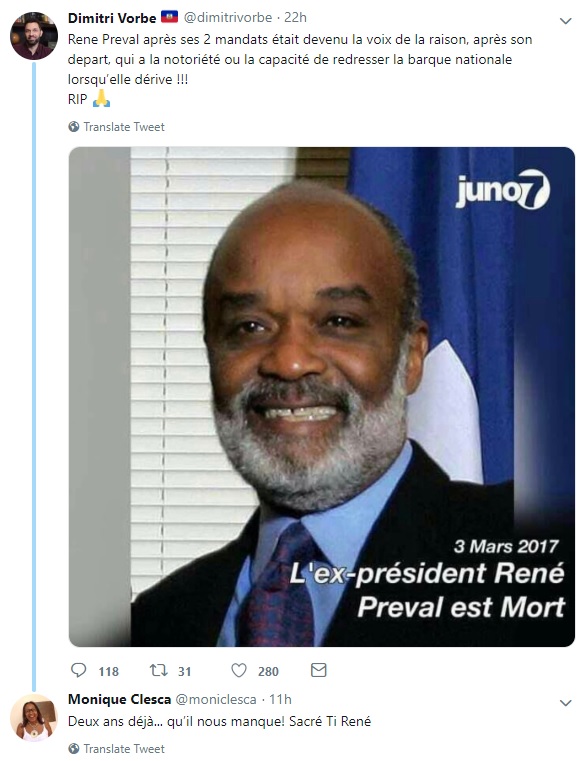 It was through his generosity that he met then father Jean Bertrand Aristide certain doors were opened for President Preval. He used to donate breads from his pastry business that he opened in the year of 1988 for the students of Salesian.
Marriage life
On December 6, 2009, Preval wedded Elisabeth Débrosse Delatour — one of his financial consultants and widow of Leslie Delatour, the previous legislative leader of Haiti's national bank. Preval's first and second relational unions, to Guerda Benoit and Solange Lafontant, both completed in divorce.
His rise to power
In 1996, Préval was chosen as president for a five-year term, with 88% of the recognized vote. The second that did it since the independence of Haiti. This was never done in the past 191 years.
Préval initiated various financial changes, most eminently the privatization of different government organizations. There was a sharp decline in joblessness rates. As an agronomist, he created some farming programs during his term.

His administration, be that as it may, was additionally set apart by furious political conflicts with a parliament commanded by resistance party individuals (OPL) and an inexorably vocal Fanmi Lavalas which restricted the auxiliary change and privatization program of Préval's government.

Preval is a fierce fighter when it comes to human rights violations. He broke up the parliament in 1999 and managed by declaration for the span of the last year of his presidency.
He did it again (2006– 2011)
Préval won the race again in 2006 under the Lespwa banner. The race occurred following two years of UN peacekeeping. Partial race results, released on February 9, showed that he had won with about 60% of the vote, yet as further outcomes were known, a lot of the vote slipped just beneath the half expected dominant part to be chosen inside and out – therefore making a run-off necessary.
The people of Haiti took to the streets of Haiti demanded that he was declared president. As requested, Preval was declared president on February 16, 2006 by the Electoral council. He took the oath on May 14, 2006. Jacques Edouard Alexis was his prime minister.
One of the first things Preval did on his 2nd term was the PertoCaribe deal with Venezuela. Préval drew quite a bit of support from Haiti's less fortunate folks; he was particularly broadly upheld in the most unsuccessful neighborhoods of Port-au-Prince.

In any case, a significant number of the poor requested that the previous President Aristide be permitted to return and that the workers terminated by the Latortue government be reestablished.

This caused expanding pressure in the ghettos of Port-au-Prince. Préval guaranteed to manufacture a monstrous street framework which would support exchange and transportation around the country.
Fidel Castro, Raúl Castro and other Cuban representatives, for example, Vice President Esteban Lazo Hernandez expressed gratitude toward Haiti for steadfastly casting a ballot in the United Nations General Assembly against the United States ban on Cuba.
Préval's strategic relations with individual Latin American countries opened up numerous monetary doors for Haiti. Préval met with numerous Latin American pioneers, for example, Fidel Castro, Evo Morales of Bolivia, Martín Torrijos of Panama, and Leonel Fernández of the neighboring Dominican Republic.

Relations with the Dominican Republic were reinforced to a great extent because of Préval's readiness to end, unstable demeanors and to the two presidents' emphasis on participation. The Dominican Republic was Préval's first remote visit as head of state.

Préval then visited the United States, where he was saluted by U.S. President George W. Bush praised on his re-election.
Préval announced that following the Dominican Republic, the U.S. would be his first conciliatory visit in office, putting it in front of his possible political visits to Venezuela, Cuba and France. The U.S. considered Préval's summit with Bush a decent indication of amazing US-Haitian relations amid the 43rd U.S. President's organization.
Things got shaky in 2008
Toward the beginning of April 2008, riots have broken out over the staggering expense of food; since 2007, costs for various necessary sustenance, including rice, had ascended by about 50%. As the uprisings progressed, agitators assaulted the presidential palace on April 8. They were, however, met with the mighty UN soldiers.

On April 9, Préval called for peace; he said that high food prices were an issue far and wide, yet that the issue would not be tackled by destroying stores, and he said that he had "requested Haitian police and UN fighters to put a conclusion to the plundering".

In spite of requests for all expenses on food imports to be lifted, Préval said that he couldn't do as such in light of the fact that the cash was needed
Haiti Earthquake of 2010
A high magnitude earthquake hit Haiti On January 12. Preliminary reports demonstrated that the envoys were not able contact President Préval and they dreaded with the idea that he was one of the casualties.

It was reported a few hours later that the President and his wife Elisabeth Delatour Préval had gotten away safe and had been moved to a protected area on the island. The couple was going to enter their home when the quake struck.

A significant part of the Haitian government, including President Préval, moved to a police station near a Toussaint Louverture International Airport. The loss of life gauges from 100,000 to 316,000 people. Following the quake, President Préval was condemned in Haiti and abroad for his supposedly frail calamity reaction.
President Preval's His death in 2017
After the presidency, Preval went to his home in Marmelade, where he took a shot at activities which incorporated a rural co-employable, a training center and a juice factory. His last known public presence was at the inauguration of Haitian President Jovenel Moïse on February 7, 2017.
Rest in Peace President Preval. His passing was declared on 3 March 2017 by Moïse on his Twitter account. Family companions declared that Preval was gone while in transit to a rural medical clinic in Port-au-Prince.

The reason for his death was at first reported as a heart failure. Some people had doubts about the account of his passing. This led to an autopsy that was conducted in front of DA Danton Leger. The examination was uncertain yet precluded a mind discharge or stroke.

Preval's body laid in state at Muse du Pantheon National on the Champ de Mars, and a state memorial service and Catholic mass were held at the Kiosque Occide Jeanty amphitheater.

Patricia Préval, his youngest daughter, glorified her dad. Previous presidents Jocelerme Privert, Michel Martelly and Prosper Avril were in participation along with a few diplomats from around the world.