Sonson La Familia: RNDDH demands the application of the judgment of May 8, 2018
The national network of human rights RNDDH, asks the Court of Cassation to re-arrest Sonson La Famila and Renel Nelfort. The court of Cassation is the highest court in the country. This is in accordance with the judgment of the Court of Cassation last May. Michel Martelly's friend Sonson La Famila may be heading back to jail.
Roody Etheart alson known as Sonson La Familia and Renel Nelfort are both memmbers of gang Gali. Gang galil is a gang that is allegedly have close ties to the current government and the previous one.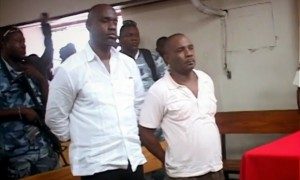 In that decision, the Court quashed the judgment that the criminal court sitting without jury assistance had made three years earlier. On April 17, 2015, the two men identified as the architects of the criminal association dubbed "gang". Galil ".
They were released by judge Belizaire
RNDDH recalls that it is in response to public clamor. This release offended RNDDH. The public prosecutor at the Court of First Instance of Port-au-Prince had exercised a power of cassation.
In correspondence addressed to the new President of the Court, René Sylvestre. The RNDDH said it found that almost 10 months later, the Court's judgment has still not been implemented. The human rights organization is all the more dismayed by noting the treatment of a case that had hit the headlines.
The RNDDH claims to have discovered that the Tribunal de premiere instance of Port-au-Prince was not served with the judgment of May 2018. Whereas, between the registry of the Court of Cassation and that of the prosecutor's office, there would be confusion.
Indeed, the registry of the public prosecutor's office at the Court of Cassation denies having received this document. The judgment of May 2018, that the registry of the Court affirms to have sent to him for the necessary continuations.
Facts for the least troubling for the human rights organization that recalls that Sonson La Familia and Renel Le Récit were tried for kidnapping, sequestration, money laundering, forgery, illegal drug trafficking, usurpation of securities, vehicle thefts, illegal possession of firearms among others.
These are criminals
Also, RNDDH claims that the criminal gang Galil has committed heinous crimes including the abduction of at least 17 people and the murder of at least four others.
Therfore, RNDDH urges the new president of the Court of Cassation to uphold the decision of the highest legal authority of the country in all its content.